La importancia de la Educación Física en el desarrollo motor infantil: una revisión integradora
Resumen
El desarrollo motor es un proceso continuo caracterizado por cambios en el comportamiento motor que mejoran a lo largo de la vida. La Educación Física puede mejorar el desarrollo motor, psicológico, social y cultural de los niños en edad escolar. El objetivo de este trabajo fue realizar una revisión crítica de la literatura con el fin de identificar y describir la importancia de la Educación Física en el desarrollo motor en la infancia. Se trata de un estudio bibliográfico del tipo revisión integradora de la literatura. Se exploraron las bases de datos Pubmed, Scielo y Lilacs entre agosto y noviembre de 2021, aplicando los siguientes descriptores cruzados entre sí mediante los operadores booleanos "AND" y "OR": Educación Física, Desarrollo infantil, Habilidades motoras. Se encontraron 68 estudios. Luego de aplicar los criterios de inclusión y exclusión, se seleccionaron 12 artículos académicos, incluyendo 10 estudios de campo, una investigación transversal y un estudio de caso. La literatura actual destaca la importancia del profesional de Educación Física en el desarrollo motor de los niños, participando de manera positiva en la adquisición y perfeccionamiento del desempeño motor, madurez cognitiva, motricidad básica y fundamental, motricidad fina y gruesa, coordinación motriz, equilibrio y aptitud física.
Palabras clave:
Educación Física, Desarrollo infantil, Habilidades motoras
Referencias
Bayley, N. (2006). Bayley scales of infant and toddler development (3rd ed.). Pearson.
Bernate, J. (2021). Physical Education and its contribution to the comprehensive development of motor skills. Podium (Pinar Río), 16(2), 643-661. https://podium.upr.edu.cu/index.php/podium/article/view/957/
Burgemeister, B.B., Blum, L.H., e Lorge, I. (1977). Escala de maturidade mental Colúmbia, Manual de aplicação. Editora Psicopedagógica Ltda.
Caruzzo, N.M., Santos, V.P., Belem, I.C., Contreira, A.R., Fiorese, L., e Vieira, J.L.L. (2020). Associação entre desempenho motor, maturidade cognitiva e aspectos sociodemográficos em crianças pré-escolares. J Phys Educ., 31, e3174. https://doi.org/10.4025/jphyseduc.v31i1.3174
Castro, M.M., Víquez, R.A., e Aguilar, S.B. (2020). Efecto de una intervención motriz basada en el método de descubrimiento guiado sobre los patrones básicos de movimiento de un niño de 9 años: estudio de caso. MHSalud, 17(1). http://dx.doi.org/10.15359/mhs.17-1.3
Cortez, G.M.V., Ferreira, H.H.M., e Bella, G.P. (2019). Comparative study between school and motor performance in children aged 6 to 11 years according to teachers' perceptions. Fisioter Mov., 32(e003212). https://doi.org/10.1590/1980-5918.032.AO12
Costa, A.C.R.V., Ferraz, N.N., e Berezovsky, A. (2021). Cognitive, motor, and visual development in healthy children in the first 42 months of life. Arq. Bras. Oftalmol., 84(5), 436-441. https://doi.org/10.5935/0004-2749.20210068
Devide, F.P. (2007). Educação Física, Qualidade de Vida e Saúde: campos de intersecção e reflexões sobre a intervenção. Movimento, 8(2), 77-84. https://doi.org/10.22456/1982-8918.2644
França, E.F., Ferreira, B.M.A., Braga, P.L.G., e Silva, A.I. (2016). Avaliação motora de alunos do ensino fundamental de uma escola de São Miguel Paulista-SP. HU Revista. 42(4), 283-290. https://periodicos.ufjf.br/index.php/hurevista/article/view/2568
Gallahue, D.L., e Donnelly, F.C. (2008). Educação física desenvolvimentista para todas as crianças. Phorte Editora.
Gallahue, D.L., Ozmun, J.C., e Goodway, J.D. (2013). Compreendendo o Desenvolvimento Motor: bebês, crianças, adolescentes e adultos (7ª ed.). Phorte Editora.
Henderson, S., Sugden, D., e Barnett, A. (2007) Movement Assessment Battery for Children. Second Edition, Pearson, London. https://doi.org/10.1037/t55281-000
Kiphard, E.J., e Schilling, F. (1974). Koper-Koordinations-test fur: KTK. Beltz Test Gmbh, Weinhein.
Martínez, P.Y.O. (2020). Pedagogical Strategies for Gross and Fine Motor Skills Learning Through Physical Education: Intervention in Students with Hearing Impairment. Rev. Bras. Ed. Esp., 26(4), 567-576. https://doi.org/10.1590/1980-54702020v26e0063
Oliveira, V.J.M. (2019). O tema da saúde na educação física escolar em três periódicos da educação física brasileira. Conexões, 17(e019015), 1-17. http://dx.doi.org/10.20396/conex.v17i0.8654678
Ota, S.G., Ramirez, G.S., Vasques, H.C., e Marco, A. (2019). Influence of an Intervention on the Motor Coordination of Children from 5-6 Years. J Health Sci., 21(4), 386-389. https://doi.org/10.17921/2447-8938.2019v21n4p386-9
Plowman, S.A., Sterling, C.L., Corbin, C.B., Meredith, M.D., Welk, G.J., e Morrow Jr, J.R. (2010). Fitnessgram/Activitygram reference guide (4th ed.). The Cooper Institute, Dallas.
Queiroz, D.R., Guimarães, T.G.M., Campos, C.M.C., Feitoza, A.H.P., Henrique, R.S., Santos, M.A.M., e Cattuzzo, M.T. (2020). Effect of school type and family income on motor competence changes in pre-school children: a repeated cross sectional study. J Phys Educ., 31(e3118). https://doi.org/10.4025/jphyseduc.v31i1.3118
Rocha, FF, Santos, VAP, Contreira, AR, Pizzo, GC, Silva, PN, Romero, PVS, e Vieira, JLL (2016). Análise do desempenho motor e maturidade cognitiva de pré-escolares de Maringá (PR). Revista Saúde e Pesquisa, 9(3), 507-515. https://doi.org/10.17765/1983-1870.2016v9n3p507-515
Saraiva, J.P., e Lopes, L (2019). Relação entre a coordenação motora e a aptidão física em crianças dos 9 aos 14 anos. R bras Ci e Mov., 27(1), 141-149. http://dx.doi.org/10.31501/rbcm.v27i1.7979
Silva, A.Z., Pereira, F.L.H., Mincewicz, G., Araujo, L.B., Guimarães, A.T.B., e Israel, V.L. (2017). Psychomotor Intervention to stimulate Motor Development in 8-10-year-old schoolchildren. Rev Bras Cineantropom Desempenho Hum., 19(2), 150-163. https://doi.org/10.5007/1980-0037.2017v19n2p150
Silva Filho, J.A., Cazeiro, A.P.M., Campos, A.C., e Longo, E. (2020). Medida da Participação e do Ambiente - Crianças Pequenas (YC-PEM): tradução e adaptação transcultural para o uso no Brasil. Rev Ter Ocup Univ São Paulo, 30(3), 140-149. https://doi.org/10.11606/issn.2238-6149.v30i3p140-149
Siqueira, K.C.F., Sousa Junior, J.G., Lima, M.M., e Tolocka, R.E. (2019). Rotina préescolar e desenvolvimento infantil de crianças atendidas em uma escola pública no interior de São Paulo. R. bras. Ci. e Mov., 27(4), 5-12. https://doi.org/10.31501/rbcm.v27i4.9115
Tella, P, Piccolo, LR, Rangel, ML, Rohde, LA, Polanczyk, GV, Miguel, EC, Grisi, SJFE, Bilyk, BF, e Ferraro, AA (2018). Socioeconomic diversities and infant development at 6 to 9 months in a poverty area of São Paulo, Brazil. Trends Psychiatry Psychother., 40(3), 232-240. https://doi.org/10.1590/2237-6089-2017-0008
Ulrich, D. (2000). Test of gross motor development-2. Pro-Ed.
Zamora, C.P., Romero, C.A.M., Pérez, M.L.R., e Paula, M.P. (2020). Medio de enseñanza para el desarrollo de habilidades motrices básicas en niños de sexto año de vida. Revista Podium, 15(2), 221-237. https://dialnet.unirioja.es/servlet/articulo?codigo=7600062
Biografía del autor/a
Flávio Avelino Bezerra,
http://lattes.cnpq.br/6797291889441805
Jéssica Martins Felix,
http://lattes.cnpq.br/1574848325690974
Ritchele Diego de Almeida Freitas,
http://lattes.cnpq.br/7571797840516663
Caio Vinícius da Silva,
http://lattes.cnpq.br/7048131117037302
Maiara Alves Nascimento Araújo,
http://lattes.cnpq.br/0408902220145692
João Antonio Silva Araújo,
http://lattes.cnpq.br/4184650183121246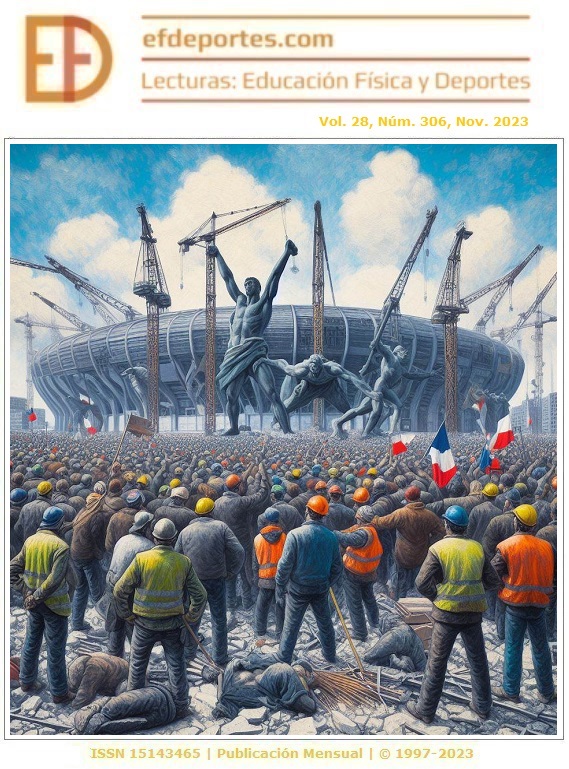 Cómo citar
Bezerra, F. A., Felix, J. M., Freitas, R. D. de A., Silva, C. V. da, Araújo, M. A. N., & Araújo, J. A. S. (2023). La importancia de la Educación Física en el desarrollo motor infantil: una revisión integradora. Lecturas: Educación Física Y Deportes, 28(306), 192-207. https://doi.org/10.46642/efd.v28i306.3952
Sección
Artículos de Revisión
Derechos de autor 2023 Lecturas: Educación Física y Deportes
Esta obra está bajo licencia internacional
Creative Commons Reconocimiento-NoComercial-SinObrasDerivadas 4.0
.