Consumo de alcohol y tabaco: estudiantes de 11 a 16 años en Cáceres-España y Paranavaí-Brasil
Resumen
La adolescencia es una fase en la que se produce un periodo de cambios generadores de estrés, que se convierte en un factor de riesgo para la experimentación de sustancias psicoactivas, que pueden durar hasta la edad adulta, causando daños a la salud, comprometiendo las relaciones familiares, sociales e incluso profesionales. Así, el objetivo de este estudio fue verificar los niveles de consumo de alcohol y tabaco en estudiantes de Paranavaí-Brasil y Cáceres-España. Se realizó un estudio transversal con estudiantes de 11 a 16 años de las ciudades de Cáceres, España, en 2015, y Paranavaí, Brasil, en 2013, quienes respondieron al cuestionario recomendado por la Universidad Federal de Pelotas sobre consumo de alcohol y tabaco, e IPAQ, además de someterse a evaluaciones de IMC, circunferencia de cintura y niveles de presión arterial. Los datos recolectados fueron procesados utilizando el paquete computarizado Statistical Package for the Social Science (SPSS), versión 26.0. Los resultados indican que los estudiantes brasileños eran más propensos a la obesidad y la experimentación con drogas lícitas antes, así como más consumidores de alcohol que los españoles, que consumen más tabaco. Los adolescentes con padres que beben tienen el doble de probabilidades de consumir bebidas alcohólicas y los que fuman también tienen más probabilidades de consumir tabaco. Por lo tanto, es notable el inicio temprano de la experimentación con drogas en ambos grupos. El grupo brasileño era más propenso al consumo de alcohol, mientras que los españoles son más propensos a consumir tabaco.
Palabras clave:
Consumo de bebidas alcohólicas, Consumo de tabaco, Estudiantes
Descargas
La descarga de datos todavía no está disponible.
Referencias
Almeida, C.S. de, Abreu, M.N.S., Andrade, S.N., e Lana, F.C.F. (2021). Factors associated to alcohol use by adolescents. Texto & Contexto-Enfermagem, 30. https://doi.org/10.1590/1980-265X-TCE-2019-0008
Arvidsson, D., Slinde, F., e Hulthen, L. (2005). Physical activity questionnaire for adolescents validated against doubly labelled water. European journal of clinical nutrition, 59(3), 376-383. https://doi.org/10.1038/sj.ejcn.1602084
Barroso, WKS, Rodrigues, CIS, Bortolotto, LA, Mota-Gomes, MA, Brandão, AA, Feitosa, ADM, Machado, CA, Poli-de-Figueiredo, CE, Amodeo, C., Mion Júnior, D., Barbosa, ECD, Nobre, F., Guimarães, ICB, Vilela-Martin, JF, Yugar-Toledo, JC, Magalhães, MEC, Neves, MFT, Jardim, PCBV, Miranda, RD,... Nadruz, W. (2021). Diretrizes Brasileiras de Hipertensão Arterial–2020. Arquivos Brasileiros de Cardiologia, 116(3), 516-658. https://doi.org/10.36660/abc.20201238
Bezerra, J., Lopes, A., Hardmam, C., Tassitano, R., Tenório, M., e de Barros, M. (2015). Consumo de bebidas alcoólicas e tabagismo: associação com inatividade física no lazer e comportamento sedentário. Revista Andaluza de Medicina del Deporte, 8(1), 1-6. http://dx.doi.org/10.1016/j.ramd.2014.08.002
Christofaro, DGD, Casonatto, J., Polito, MD, Cardoso, JR, Fernandes, R., Guariglia, DA, Gerage, AM, e. Oliveira, AR (2009). Evaluation of the Omron MX3 Plus monitor for blood pressure measurement in adolescents. European journal of pediatrics, 168(11), 1349-1354. https://doi.org/10.1007/s00431-009-0936-x
Cole, T.J., Bellizzi, M.C., Flegal, K.M., e Dietz, W.H. (2000). Establishing a standard definition for child overweight and obesity worldwide: international survey. BMJ, 320(7244), 1240. https://doi.org/10.1136/bmj.320.7244.1240
Costa, F.F., Queiroz, J.P.Q. de, Souza, S.B., Silva-Oliveira, G.C., e Oliveira-Filho, A.B. (2020). Uso de álcool entre adolescentes: prevalência, fatores de risco e estratégia de prevenção numa área rural do estado brasileiro do Pará. Research, Society and Development, 9(11), e58291110351-e58291110351. https://doi.org/10.33448/rsd-v9i11.10351
De Micheli, D., Andrade, A.L.M., Reichert, R.A., Pinheiro, B.O., da Silva, E.A., e Lopes, F.M. (2021). Aspectos comportamentais, neurobiológicos e psicossociais do uso e dependência de drogas. Editora CRV.
Donoghue, K., Rose, H., Boniface, S., Deluca, P., Coulton, S., Alam, MF, Gilvarry, E., Kaner, E., Lynch, E., Maconochie, I., McArdle, P., McGovern, R., Newbury-Birch, D., Patton, R., Phillips, CJ, Phillips, T., Russell, I., Strang, J., e Drummond, C. (2017). Alcohol consumption, early-onset drinking, and health-related consequences in adolescents presenting at emergency departments in England. Journal of Adolescent Health, 60(4), 438-446. https://doi.org/10.1016/j.jadohealth.2016.11.017
Faul, F., Erdfelder, E., Lang, A.G., e Buchner, A. (2007). G* Power 3: A flexible statistical power analysis program for the social, behavioral, and biomedical sciences. Behavior research methods, 39(2), 175-191. https://doi.org/10.3758/BF03193146
Ferreira-Lima, W., Silva-Lima, S.B. da, Lima, F.É.B., Lima, F.B., Fernandes, C.A.M., e García, J.P.F. (2020). Fatores de risco cardiovascular em estudantes de 11 a 16 anos em Paranavaí (Brasil) e Cáceres (España). Revista Andaluza de Medicina del Deporte, 13(2), 81-86. https://pesquisa.bvsalud.org/portal/resource/pt/ibc-194369
García-Mayor, J., Moreno-Llamas, A., e Cruz-Sánchez, E.D.L. (2020). Prevalencia de tabaquismo y hábitos de vida relacionados con la salud en función del uso del tabaco tras la implantación de la Ley 42/2010: análisis de encuestas de salud en España 2009-2017. Revista Española de Salud Pública, 93, e201907042. https://www.scielosp.org/pdf/resp/2019.v93/e201907042/es
Gervilla, E., Quigg, Z., Duch, M., Juan, M., e Guimarães, C. (2020). Adolescents' alcohol use in Botellon and attitudes towards alcohol use and prevention policies. International Journal of Environmental Research and Public Health, 17(11), 3885. https://doi.org/10.3390/ijerph17113885
Getachew, S., Lewis, S., Britton, J., Deressa, W., e Fogarty, A.W. (2019). Prevalence and risk factors for initiating tobacco and alcohol consumption in adolescents living in urban and rural Ethiopia. Public health, 174, 118-126. https://doi.org/10.1016/j.puhe.2019.05.029
Giustino, A., Stefanizzi, P., Ballini, A., Renzetti, D., De Salvia, M., Finelli, C., Coscia, MF, Tafuri, S., e De Vito, D. (2018). Alcohol use and abuse: a cross-sectional study among Italian adolescents. Journal of preventive medicine and hygiene, 59(2), E167-E171. https://www.researchgate.net/publication/326491081
Guimarães, B.E. de B., Aquino, R., Prado, N.M. de B.L., e Rodrigues, P.V.A. (2019). O consumo excessivo de álcool e a insatisfação com a imagem corporal por adolescentes e jovens de um município baiano, Brasil. Cadernos de Saúde Pública, 36(1). https://doi.org/10.1590/0102-311X044919
Kuczmarski, R.J. (2000). CDC growth charts: United States (No. 314). US Department of Health and Human Services, Centers for Disease Control and Prevention, National Center for Health Statistics.
Lees, B., Meredith, L.R., Kirkland, A.E., Bryant, B.E., e Squeglia, L.M. (2020). Effect of alcohol use on the adolescent brain and behavior. Pharmacology Biochemistry and Behavior, 192, 172906. https://doi.org/10.1016/j.pbb.2020.172906
Malta, DC, Machado, IE, Porto, DL, Silva, MMA, Freitas, PC, Costa, AWN, e Oliveira-Campos, M. (2014). Alcohol consumption among Brazilian adolescents according to the National Adolescent School-based Health Survey (PeNSE 2012). Revista Brasileira de Epidemiologia, 17, 203-214. https://doi.org/10.1590/1809-4503201400050016
Martins, JG, Guimarães, MO, Jorge, KO, Silva, CJP, Ferreira, RC, Pordeus, IA, Kawachi, I. e Zarzar, PMPA (2019). Binge drinking, alcohol outlet density and associated factors: a multilevel analysis among adolescents in Belo Horizonte, Minas Gerais State, Brazil. Cadernos de Saúde Pública, 36(1). https://doi.org/10.1590/0102-311X00052119
Mutumba, M., e Schulenberg, J.E. (2019). Tobacco and alcohol use among youth in low and middle income countries: a multi-country analysis on the influence of structural and micro-level factors. Substance use &misuse, 54(3), 396-411. https://doi.org/10.1080/10826084.2018.1497063
Nazir, M.A., Al-Ansari, A., Abbasi, N., e Almas, K. (2019). Global Prevalence of Tobacco Use in Adolescents and Its Adverse Oral Health Consequences. Open Access Macedonian Journal of Medical Sciences, 7(21), 3659-3666. https://doi.org/10.3889/oamjms.2019.542
Nida (2021, April 12). How many adolescents use tobacco? https://nida.nih.gov/publications/research-reports/tobacco-nicotine-e-cigarettes/how-many-adolescents-use-tobacco
OPAS (2020). Álcool. Organização Pan-Americana da Saúde.
Santana, B.S.B., Schuengue, C.M. de O.L., e da Silva, J.W. (2017). Alcoolismo na juventude: possíveis causas e consequências [Resumo]. In II Jornada de Iniciação Científica. III Seminário Científico da FACIG: Sociedade, Ciência e Tecnologia. https://docplayer.com.br/79838703-Alcoolismo-na-juventude-possiveis-causas-e-consequencias.html
Santos, L.P., de Oliveira Meller, F., Amann, V.R., e Schäfer, A.A. (2020). Temporal trends in behavioral risk and protective factors and their association with mortality rates: results from Brazil and Argentina. BMC public health, 20(1), 1-12. https://doi.org/10.1186/s12889-020-09512-9
Silva-Lima, S.B. da (2017). Comportamientos de riesgo en los adolescentes: Prevalencia y factores asociados [Doctoral dissertation, Universidad de Extremadura]. https://dehesa.unex.es/handle/10662/6330
Silva-Lima, SB., Ferreira-Lima, W., Lima, FÉB, Lima, FB, Santos, A., Fernandes, CAM, e Fuentes, JP (2020). Sleep Hours: Risk behavior in adolescents from different countries. Ciência & Saúde Coletiva, 25, 957-965. https://doi.org/10.1590/1413-81232020253.15722018
Strong, WB, Malina, RM, Blimkie, CJ, Daniels, SR, Dishman, RK, Gutin, B., Hergenroeder, AC, Must, A., Nixon, PA, Pivarnik, JM, Rowland, T., Trost, S., e Trudeau, F. (2005). Evidence based physical activity for school-age youth. The Journal of pediatrics, 146(6), 732-737. https://doi.org/10.1016/j.jpeds.2005.01.055
Tanaree, A., Assanangkornchai, S., e Kittirattanapaiboon, P. (2017). Pattern and risk of developing alcohol use disorders, illegal substance use and psychiatric disorders after early onset of alcohol use: Results of the Thai National Mental Health Survey 2013. Drug and alcohol dependence, 170, 102-111. https://doi.org/10.1016/j.drugalcdep.2016.11.001
Taylor, R.W., Jones, I.E., Williams, S.M., e Goulding, A. (2000). Evaluation of waist circumference, waist-to-hip ratio, and the conicity index as screening tools for high trunk fat mass, as measured by dual-energy X-ray absorptiometry, in children aged 3–19 y. The American journal of clinical nutrition, 72(2), 490-495. https://doi.org/10.1093/ajcn/72.2.490
Teixeira, C. de C., Guimarães, L.S.P., e Echer, I.C. (2017). Fatores associados à iniciação tabágica em adolescentes escolares. Revista Gaúcha de Enfermagem, 38. https://doi.org/10.1590/1983-1447.2017.01.69077
Treloar Padovano, H., Janssen, T., Emery, N.N., Carpenter, R.W., e Miranda Jr, R. (2019). Risk-taking propensity, affect, and alcohol craving in adolescents' daily lives. Substance use & misuse, 54(13), 2218-2228. https://doi.org/10.1080/10826084.2019.1639753
UFPel (1993). Questionário sobre o comportamento do adolescente.
Viana, T.B.P., Camargo, C.L. de, Gomes, N.P., Felzemburgh, R.D.M., Mota, R.S., e Lima, C.C.O. de J. (2018). Fatores associados ao consumo do cigarro entre adolescentes de escola pública. Revista da Escola de Enfermagem da USP, 52. https://doi.org/10.1590/S1980-220X2017019403320
Wendt, A., Costa, C.S., Costa, F.S., Malta, D.C., e Crochemore-Silva, I. (2021). Análise temporal da desigualdade em escolaridade no tabagismo e consumo abusivo de álcool nas capitais brasileiras. Cadernos de Saúde Pública, 37, e00050120. https://doi.org/10.1590/0102-311X00050120
World Health Organization (2019). WHO report on the global tobacco epidemic, 2019: Offer help to quit tobacco use. https://www.who.int/publications/i/item/9789241516204
Yazdi, M., Kelishadi, R., Schmid, V., Motlagh, M.E., Heshmat, R., e Mansourian, M. (2020). Geographic risk of general and abdominal obesity and related determinants in Iranian children and adolescents: CASPIAN-IV Study. Eastern Mediterranean Health Journal, 26(12), 1532-1538. http://dx.doi.org/10.26719/emhj.20.054
Biografía del autor/a
Silvia Bandeira Silva-Lima,
http://lattes.cnpq.br/9916379661209950
Flávia Évelin Bandeira Lima,
http://lattes.cnpq.br/8954194878263990
Fellipe Bandeira Lima,
http://lattes.cnpq.br/6294118864890411
Carlos Alexandre Molena Fernandes,
http://lattes.cnpq.br/6018591392022592
Juan Pedro Fuentes García,
http://lattes.cnpq.br/9275648796329155
Walcir Ferreira Lima,
http://lattes.cnpq.br/4968357912867522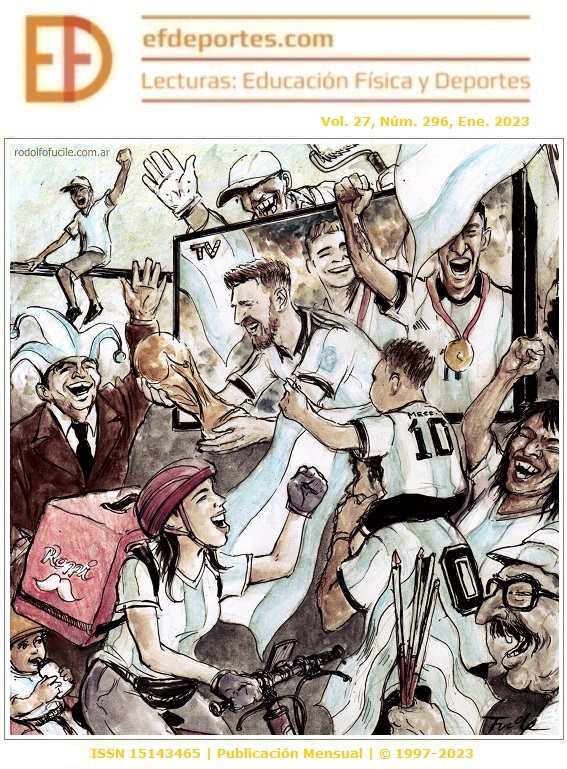 Cómo citar
Silva-Lima, S. B., Lima, F. Évelin B., Lima, F. B., Fernandes, C. A. M., Fuentes García, J. P., & Lima, W. F. (2023). Consumo de alcohol y tabaco: estudiantes de 11 a 16 años en Cáceres-España y Paranavaí-Brasil. Lecturas: Educación Física Y Deportes, 27(296), 80-100. https://doi.org/10.46642/efd.v27i296.3503
Sección
Artículos de Investigación
Derechos de autor 2023 Lecturas: Educación Física y Deportes
Esta obra está bajo licencia internacional
Creative Commons Reconocimiento-NoComercial-SinObrasDerivadas 4.0
.